We believe in being honest with each and every customer because we believe in matching each horse and rider rather than just making a sale. Our reputation is how we've built our client base and what allows us to do what we love - find great homes for great horses!
We encourage every perspective buyer to come and test ride the horse they are interested in. Take him or her on a trail or road ride and really get to know the horse before buying it. We will also sell to sight unseen buyers, and always do our best to let the new owner know all about the horse so there are no surprises when you get it home, and if there are surprises, they will be pleasant ones.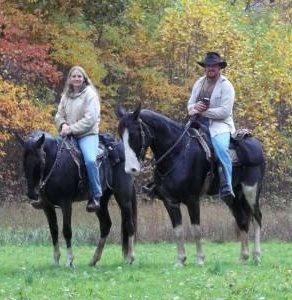 We offer consignment and sale services for private individuals who need to sell their horse, but don't have the ability or time to market them properly. Selling horses is a time consuming endeavor which requires the ability to honestly assess each horse, provide photographs and videos to potential buyers, meet with potential buyers to show the horse and identify good matches, meet with the veterinarian for pre-purchase exams, and more!
We have many references from satisfied customers and will be glad to share them! Our repeat buyers and referrals are the backbone of our business.


- Kara & Scottie