Dare to Be Blue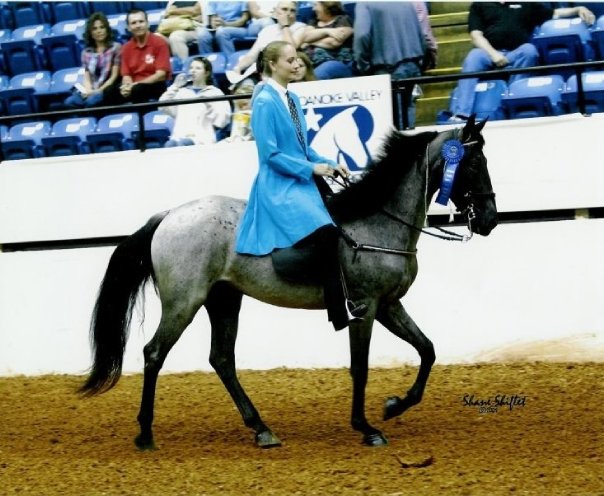 2006 KMSHA/RHBAA Blue Roan Gelding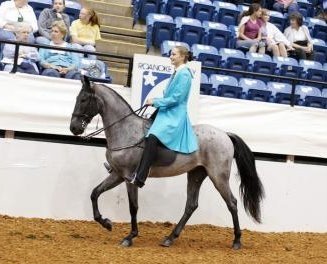 Rebel is probably the nicest colt we've ever raised! He didn't fail to meet our expectations at all! We knew that by crossing our favorite riding mare, Virginias Dare Devil, with our beautiful stallion, He's Got The Blues, that the foal wouldn't have any choice but to be exceptional...and we were right! This colt has it all... conformation, gait, color, personality, and brains! He does not care about anything and will let us do anything we want to to him. He has a proud stance with that "look at me, I know I'm beautiful" look to him at all times. We've yet to find anything that upsets this little man either on the trail, in the show ring, or just around the barn. He has been retained by Carvins Cove Stables as a trail horse.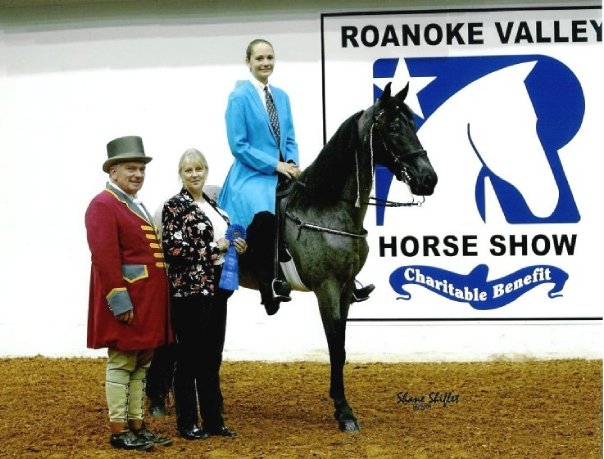 With just 30 days of riding, Rebel brought home a 2nd place ribbon from the Roanoke Valley Horse Show (ranked as one of the top 10 shows in the country) in the Trail Pleasure Racking division, as well as the Trail Pleasure Racking Championship. To top it off, we were asked to carry the American flag on him for 2 nights of the horse show, which he did with his natural grace, beauty, and brains. Quite an accomplishment for a 2 year old with only 30 days of riding! Rebel made the trip to Myrtle Beach with us in November 2008 and walked right out and went swimming in the ocean like it was nothing! In 2009 & 2010, he returned to the Roanoke Valley Horse show only to capture the victory in his class both times! In 2011, we only took him to 1 horse show, with 9 year old Alanna aboard for her first ever horse show and that team no less than capture the tri colored championship ribbons once again! There's a lot to be said about a horse that can win this consistently with different riders!
He's not only a show horse though, he's one of our primary trail mounts and goes on most all of our camping trips with us. He's been 9 year old Alanna's mount for 3 years now, since she was 6 and he was 2! Yes, we felt comfortable enough with his demeanor at even 2 years old to put a 6 year old on him, and he's never once missed a beat! We've even taken him hunting in the woods, shot guns off his back, and packed deer on him several miles back to the barn! He has a care free attitude, but has the get up and go when called on. Rebel is that once in a lifetime, irreplaceable horse!



Dare to be Blue

KMSHA#
DOB: 2006
COLOR: BLUE ROAN
SEX: GELDING

He's Got the Blues
Rain's Blue Genes
Lady's Little Girl
Virginia's Dare Devil
Chicatoe Prowler
Ace's Virginia Dare